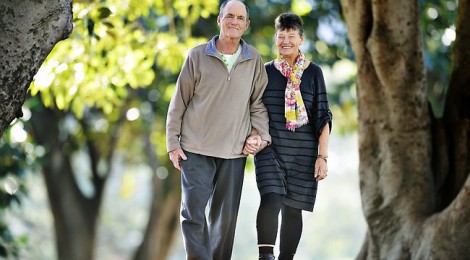 TWO is the normal number of kidneys to be born with. At 65, Brendan O'Donnell now has four. The third was a present from his sister.
The fourth, his wife gave him two weeks ago, two days shy of their 42nd wedding anniversary.
Just one normally functioning kidney can sustain life, but Brendan has an autoimmune disease that keeps destroying them. Fortunately, his family keep finding him new ones. "They call me a four-beaner," he said.
The grandfather of six was diagnosed with IgA nephropathy at age 28.
The Alfred hospital's deputy director of renal medicine, Dr Solomon Menahem, said the condition caused protein to build up, scarring the organs and blocking filtration.
The original kidneys aren't removed when new ones are transplanted.
"The transplanted kidney is … plugged into the arteries and veins in the pelvis, rather than the aorta and the inferior vena cava, which the native kidney is connected to," Dr Menahem said.
Mr O'Donnell welcomed a Federal Government announcement yesterday that it would pay six weeks' salary to live organ donors, in a bid to boost organ donation rates.
"It would probably help people who are struggling a bit and worried about a loss of wages," he said.
He spent four years on the waiting list before agreeing to accept his sister's kidney.
Cecelia Anderson, who saw her brother suffer for years on dialysis, said: "He did me a favour. He's my little brother and I cannot imagine life without him."
The kidney lasted 17 years; then it was almost another four years' dialysis. This time his wife, Heather, did not hesitate: "It was an early anniversary present."
"I can't thank them enough for it," Mr O'Donnell said.
There are 1080 Australians awaiting a kidney.
Net link: donatelife.gov.au